Plan Consulting and Administrative Services
---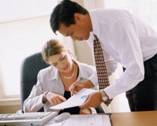 For over 40 years, we have been providing professional, independent benefit plan consultation and advice to businesses throughout Indiana and the Midwest. Our experienced staff can provide you with advice and guidance in the following areas:
Benefit plan design, development & consulting
Loss-control strategies
Data analysis
RFP preparation
Benchmarking
Dependent audits
Stop-Loss claims audits
Worker's Compensation audit appeals
Benefit denial appeals-handling
Plan Document and Forms design/preparation
VEBA trust administration
Form 990 and 5500 preparation
SAR and SMM preparation
COBRA and HIPAA administration
Disease Management and Wellness programs
On-site medical clinics
"Expert-witness" testimony
Our pricing is competitive and we will work within your budget.
Brokerage Services
---
As an independent agency, we represent a number of highly-rated insurance companies each specializing in a particular market segment or type of coverage. We offer professional risk analysis and risk placement services in the following areas:
Individual Life, Health and Disability
Key-Person Insurance
Buy-Sell Agreements
Estate Planning
Group Life and Health Insurance
Group Short- and Long-Term Disability
Short-Term Medical Insurance
Supplemental Insurance and Voluntary Benefits
Stop-Loss Insurance
Captive referrals
Compliance Testing
---
Employee benefits and HR compliance gets more difficult and complex all the time, and the penalties for non-compliance are greater than ever. Let us help you navigate through the maze of benefits rules and regulations. We have proven competency in such areas as:
ERISA
COBRA
HIPAA
Pregnancy Discrimination Act
FMLA
ADA
Women's Health & Cancer Rights Act
Newborns' & Mothers' Health Protection Act
USERRA
Medicare Part D
Medicare Secondary Payor
Non-Discrimination testing
Services are available on an hourly-rate basis, project-rate basis, or by retainer arrangement.
______________________________________________________________________________
4653 Statesmen Drive, Indianapolis, IN 46250
317-849-3282 * 800-382-5220 * Fax 317-849-3436
______________________________________________________________________________
© 2012 Donley Benefits Consulting. All Rights Reserved.